Austin Bicycle Accidents Lawyer
Recovering Millions in Damages for Victims of Bicycle Accident Personal Injuries in Texas
Bicycles are vulnerable vehicles on the road. Drivers are expected to exercise caution when they see cyclists to make sure they do not injure them. Unfortunately, bicycle accidents still happen, often leaving cyclists with severe injuries that require extensive treatment.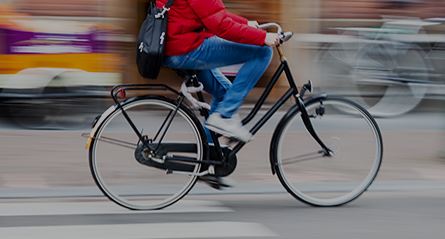 At the Law Offices of Jay Doyle, P.C., we help those who have been injured by negligent drivers to get the recovery funds they need. Bicycles are every bit as deserving of caution as any other vehicle, so we fight to ensure these drivers are held accountable for the harm they cause.
---
Dial (512) 300-0873 or contact us online now to schedule a free consultation with our Austin bicycle accident lawyer. We have earned millions of dollars in compensation for our clients.
---
Who Can Be Held Accountable After an Accident?
While most serious bicycle accidents are caused by a collision with a vehicle, not all bicycle accident cases involve a motor vehicle.
Bicycle Manufacturers or Repair Shops - If your accident was caused by a defective bike or a negligent repair you may be able to pursue damages from the manufacturer or repair shop.
Government Roads - It is even possible to pursue compensation if your accident was due to a poorly maintained or dangerous road. Our government is responsible for ensuring we have access to safe roads and walk ways and repairing them if their degradation poises danger to those that use them. If they fail to do so they can be held accountable for an accident that happens as a result.
Private Property Owners - If an accident happens due to a danger on private property, such as construction or tree trimming, you can pursue a premises liability claim.
Traffic Laws in Texas
Drivers need to be vigilant about operating their vehicles safely, as being hit by a car can cause serious injuries. Cyclists are expected to obey some basic safety laws as well, such as always riding with traffic, obeying traffic signals, and wearing visible clothing at night. Even with safe riding practices, however, there are drivers who don't pay attention, or worse, think cyclists shouldn't be on the road.
If you were struck by one of these motorists, you may be entitled to compensation for:
Medical bills
Lost wages during your treatments
Pain and suffering
Punitive damages
You deserve to have the time, comfort, and finances necessary to get better. Let our Austin bicycle accident injury lawyer handle the work of making sure your treatments are covered.
Building a Strong Case for Your Bicycle Accident Claim
Once you are injured in an accident, the first thing you need to do is get treated for your injuries. This means a claim will be opened with the driver's insurance company. It is important that you work with a competent, experienced lawyer who knows how to deal with insurance carriers.
You should also:
Visit a doctor you trust
Detail all your injuries and have your physician provide you with documentation
Gather any witness statements and police reports
Call an Austin Bicycle Injury Attorney Now
At the Law Offices of Jay Doyle, we have worked with some of the nation's largest insurance companies, and we understand how to ensure they are held accountable for what they owe. Call today and get started on your free consultation.
---
Call our firm at

(512) 300-0873

or contact us online now to meet with our Austin bicycle accident team. We can meet with you in the hospital if necessary.
---
Testimonials
What Our Clients Have to Say
Jay Doyle is what every lawyer should be — a hero! - V. H.

You represent the kind of person that I am pleased to know. - M.M.

Not only are you the best lawyer in Texas but also a very special and thoughtful one. - G.M.

Twice now you have shown me the highest professional expression of the meaning of advocate. - E.

It was a pleasure to work with your office staff, even through the most difficult of situations. - The G. Family
Millions of Dollars Recovered
$2.5 Million Wrongful Death

Client Net Recovery: $1,514,082.20

$1.3 Million Wrongful Death

Client Net Recovery: $737,737.01

$1.3 Million Wrongful Death

Client Net Recovery: $833,250

$209 Thousand Adult Drowned in River

Client Net Recovery: $137,711.94

$90.6 Thousand Auto Accident

Client Net Recovery: $50,431.54

$225 Thousand Auto Accident

Client Net Recovery: $136,610

$105 Thousand Auto Accident

Client Net Recovery: $70,044.37

$270 Thousand Auto Collision

Client Net Recovery: $175,000

$135.7 Thousand Auto Collision

Client Net Recovery: $93,459

$204.6 Thousand Auto Collision

Client Net Recovery: $157,312
The Law Offices of Jay D. Doyle Difference
No Legal Fee Unless We Win

We'll Travel to You

Direct, Honest & Clear Communication

Se Habla Español

Millions of Dollars Recovered

Nearly 40 Years of Experience
Request a Free Consultation
If you have a question about your case, Attorney Jay Doyle is the person you will talk to. You won't have to go through intermediaries to get the answers you need.